I'd like to catch some of you up with what has been happening.  Yes, The Gallery at Hualalai, which we had for a year+ at the Four Seasons Hualalai, is closed.  It was a beautiful moment in time, but maybe now I will get back to painting!  We still have our website up so that you can contact Tiffany DeEtte, or Mary Spears or me through it.  I am happy to be home with no commute!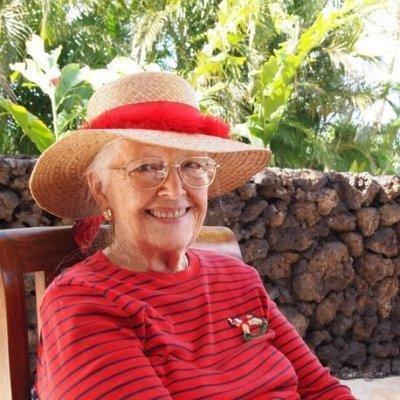 Many of you call to find out how my mom, Mary, is doing and she is great.  She is back to painting again and has a better social life than I do.  Her three kitties and her iPad keep her company when she is not out having lunch with friends.
Our other big news, of course, is our son Kristoffer's wedding to the lovely Miss Kate.  It was held here in the garden under the jacaranda which spread out its arms to create a truly romantic setting. The flower beds were full of twinkling lights and the tree was hung with lanterns that glowed as the sun set on a blessedly rainless day. The groom was handsome. The bride was stunning. The evening was balmy. The cupcakes were yummy. It was perfect.
---
---